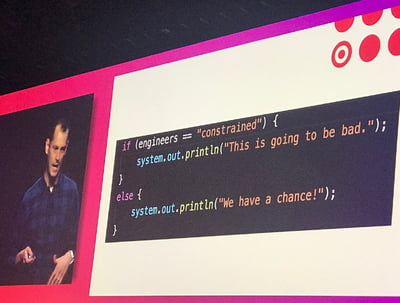 Eight Predictions for DevOps and IT in 2019: "Continuous Everything" Brings us Back to Business
by Torsten Volk, Managing Research Director, Hybrid Cloud, Software Defined Infrastructure and Machine Learning
"There is no change without brutal pain," said one of the participants, the CIO for a major U.S. financial institution, during a lunch panel at DevOps Enterprise Summit 2018 in Las Vegas. While clearly sprinkling his statement with a certain amount of sarcasm and frustration, the CIO hit the nail on its head. In 2019, businesses have arrived at a state where "business as usual" no longer represents a viable approach. As a result, companies will have to say goodbye to some of the most fundamental paradigms in software development and enterprise IT and replace them with a set of new perspectives and approaches that facilitate "continuous everything" as today's Holy Grail in development and IT. "Continuous everything" refers to continuous compliance, security, performance, testing, cost control, and availability, and will become part of any DevOps and IT initiative in 2019. Needless to say, the concept of "continuous everything" is an integral part of all eight predictions for 2019.
Prediction #1: Autonomic Computing 3.0 and a New Breed of IT Operators
In 2019, the third wave of Autonomic Computing (let's call it "Autonomic Computing 3.0") will drive down IT operations and application release costs to enable enterprises to use the freed up OPEX and CAPEX to release better software faster. Two key factors will drive this third wave:
IT administrators are turning into operations architects and engineers. Both roles will focus on enabling continuous compliance, security, performance, and quality by providing automated self-service IT, where before there was a lot of manual intervention required each step of the way.

For these new operations architects and engineers to be successful, they will more frequently adopt declarative approaches to operations management where they describe the required target state of any system or application, while an automation platform ensures the enforcement of that state.
Autonomic Computing 3.0 will finally give IT operations a strategic position in the enterprise as this new breed of operators directly influences the organization's potential to rapidly and continuously develop differentiating software capabilities. Read this recent blog post to learn more on Autonomic Computing 3.0 and the EMA Enterprise Decision Guide that is currently in the making.
Shaun Norris, Global Head - Cloud Infrastructure Services at Standard Chartered Bank, talks about how
corporate IT must adjust to allow the business to move faster by adopting best of breed hybrid cloud solutions.
Prediction #2: Infrastructure as Code for a Self-Driving Cloud
In 2018, there has been much confusion around infrastructure as code (IaC). Even more advanced developers are struggling with the concept of trusting an automation engine that simply enforces a predefined state, without developers or operators needing to know exactly how to get there. Kubernetes will serve as a catalyst for this development, as application containers can only be managed at scale by utilizing this declarative approach. The described new breed of IT engineers will then not simply "file away" these code templates for later use, but ensure and enforce parameterization for automated continuous security, compliance, performance, testing, and availability.
Colby Heiner, GTM Strategist for VMware Cloud Automation, explains VMware's DevOps strategy.
Prediction #3: Serverless Computing Becomes Mainstream
In 2018, most developers and DevOps teams were still struggling with the notion of moving toward a more "serverless" approach to developing and operating software. This was due to a lack of education, tooling, and hybrid options for serverless development. Also, many enterprises were distracted by the enthusiasm and sometimes hype around Kubernetes. While Kubernetes is here to stay, this platform is much more of a declarative open-source standard of how to operate distributed applications than a solution to the big challenges of digital transformation. Nonetheless, Kubernetes is the underlying platform needed to ensure a hybrid serverless platform that allows developers and operators to continuously, compliantly, and securely release new software in a policy-driven manner.
Prediction #4: Artificial Intelligence and DevOps
One of my personal key moments in 2018 was receiving piles of questions after my talk on how AI can enhance DevOps. Based on these questions, it became clear to me that we are still at the beginning of being able to leverage artificial intelligence to enhance software products and DevOps process. In 2019, enterprises will look toward those AI vendors who focus on making AI models easily accessible for developers and IT operators to leverage to enhance software capabilities and DevOps efficiency.
Topo Pal from CapitalOne explains how the banking industry will benefit from artificial intelligence in 2019.
Prediction #5: We Will Move Beyond the App
Apps are an anachronism from times when computers were designed to sit on office desks and support a small number of very specific tasks that they were able to do much more efficiently than a scientific pocket calculator or a typewriter. In today's world of complex business processes that exclusively rely on online communication, real-time metrics, and the analysis of complex bodies of data, we need 2019 to be the year that goes "beyond the app" and into a new breed of workspaces that "understand" a user's job role, intention, personal preferences, and legal and corporate contexts to proactively support a user's daily tasks. Modern workplace solutions need to go one step further and remind users of best practices, corporate policies, political and economical developments, and other framework factors that could impact a specific user's role. Needless to say, these company-, role-, and user-centric workspaces are no longer tied to any device, but will follow each user around, no matter where he or she is currently working.
Prediction #6: Hybrid Will Become the New Normal
2018 was the year when the private cloud came back with a vengeance. However, this renaissance of leveraging private resources has been fundamentally different in character compared to the first wave of private cloud, which started around 2010 and mainly focused on offering IaaS based on the corporate virtualized environment. While this initial approach failed due to insufficient orchestration and automation capabilities, the second wave of private cloud now focuses on extending infrastructure and service APIs from the public cloud into private data centers or private infrastructure hosted within colocation facilities. "API consistency" will become the new catchphrase whispered around corporate water coolers.
Prediction #7: Everyone Will Become a Data Scientist
WYSIWYG AI at Last While we have been talking about "citizen data scientists" throughout 2018, in 2019 we will finally see more enterprises adopting machine learning and artificial intelligence (AI/ML) platforms that make internal and external corporate data much more accessible for each and every staff member. Within this context, we will see organizations seek out vendors that can offer centrally-managed federated data platforms with continuous security and compliance built in. The phrase "AI starts with the availability of the right data for the right people" will become the central driver for enterprises pushing toward competitive advantages through making AI broadly accessible to most or all staff.
Prediction #8: Servers Will Finally Turn Into Code
A Happy Ending for the Pets-to-Cattle Transformation One of the most frustrating experiences in 2018 began with an article on how enterprises purchase new servers. Against what server vendors like to tell the public, this purchasing process still is much more focused on acquiring raw resources at a low price. Accordingly, we have seen many vendors advertising "old world metrics" such as density, power consumption, or cost per CPU socket, while at the same time advertising the importance of transitioning from pets to cattle and making the corporate server platform available to developers via a similar set of APIs, which they are used to from AWS, Azure, and Google cloud. In 2019, the server vendor with the best ability to offer customers "servers as code" that they can manage through the same unified platform they use to manage cloud native application infrastructure.
Look for the next part of this three- part series on my blog:
https://www.linkedin.com/today/author/torstenvolk.