Modern Managed File Transfer: Enjoy Immediate Benefits While Laying a Foundation for Digital Transformation
by Dan Twing, President and COO
Modern IT relies heavily on file transfers every day to complete the day's activities and prepare systems for the next day. EMA estimates that 20 percent of scheduled jobs include file transfers, with a majority of job streams containing at least one such job. With so much riding on the success of moving data, it is critical to have a modern and easy-to-use tool to ensure visibility and control of data on the move. WLA tools have long been integrated with managed file transfer tools to coordinate this activity. However, in the past few years, a number of leading WLA tools have added significant native managed file transfer capabilities.
Magic happens when the management of file transfers is natively handled inside a good WLA tool. First, visibility goes way up. Generally, a broader group of people have access to WLA dashboards than would have visibility into a standalone MFT product. Second, it is immediately apparent which file transfers affect which jobs, and with modern predictive analytics within WLA tools, the impact of file transfers can be immediately factored into the equation. Many organizations allow business users to monitor the status of their own jobs and even kickoff or restart their own file transfers.
Business users are not the only benefactors. Leading WLA tools have been empowering developers with new features to support DevOps practices and enable easier digital transformation. Like business users, developers also benefit from WLA dashboards for visibility and limited control of some jobs. However, there are significant developer capabilities in some WLA products that go far beyond simple visibility and limited control. Developers benefit from REST APIs, custom integration capabilities, and jobs-as-code features that allow direct scheduler interaction from within familiar coding tools and practices. Natively managing file transfers from within developer-enabled WLA tools puts tremendous integration capabilities into the hands of developers, speeding digital transformation and other development efforts while improving the manageability of file transfers.
WLA tools also offer great security and audit features that benefit managed file transfer. Existing user permissions are ready to be used for file transfer features. Staff already trained on WLA reporting and audit features are immediately ready to utilize the same logging and reporting to control and monitor file transfers as they do with broader job scheduling. Many organizations are already taking advantage of MFT capabilities within WLA tools. Taken from the EMA research report titled "The Shifting Role of Workload Automation: WLA Expansion Creates a Foundation for Broader Business Process Automation and Digital Transformation," the chart shows the forms of automation used to handle file transfers. Workload automation is the most used form of automation for file transfers at 46 percent, with only 22 percent using specific, standalone MFT software.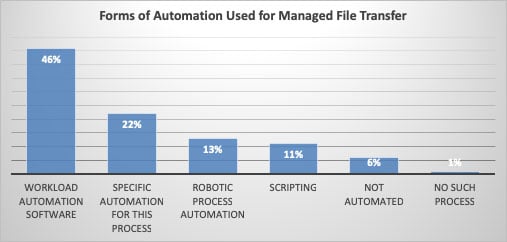 One of the leading WLA tools, BMC Control-M, has been working over the past several releases to significantly enhance file transfer management. Control-M had automation for file transfers for some time, but recent improvements raised the bar to include features of standalone MFT products. These features can be used within Control-M or as a standalone MFT server.
Join me with Robby Dick, BMC Solutions' Marketing Manager for Control-M on February 19, 2019 for the "Modern Managed File Transfer: Enjoy Immediate Benefits While Laying a Foundation for Digital Transformation" webinar. We will review recent EMA research, evaluate new Control-M capabilities, and discuss success stories from clients who are taking advantage of these new capabilities.